This report was originally published in Dog World after Crufts 2017
Thursday – Inter-Regional Rally Competition followed by Obreedience.
Crufts is the show which the majority of dog people always look forward to but this year, for the first time the show opened with the newly introduced Inter-Regional Rally Competition. This is the first time Rally has been held as a competition at Crufts so it will be interesting for people who are new to the competition and watching it for the first time.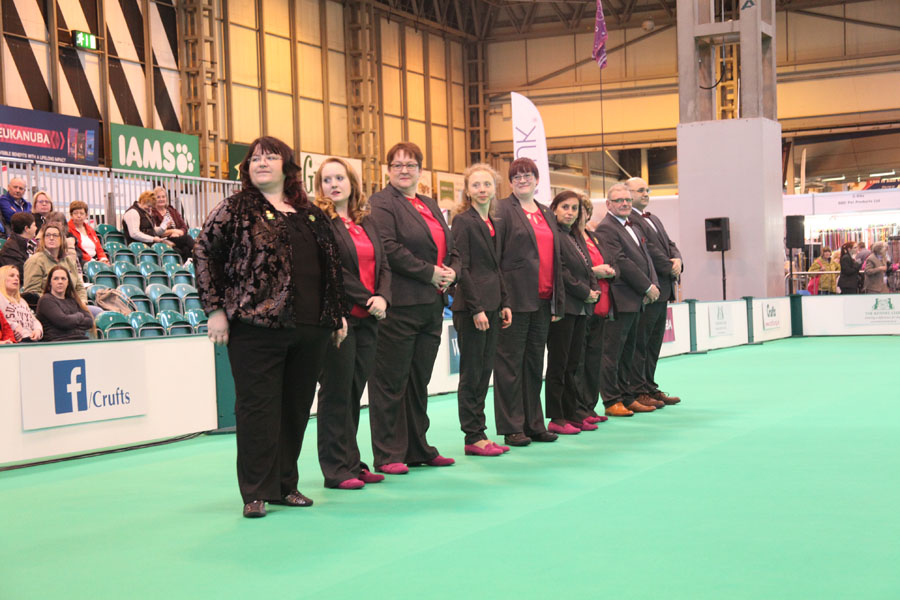 The judge was Claire Coughlan-Khan who was very honoured to be asked to judge this event in its first year.
Each team consists of six levels, 1 – 6, with 1 reserve, so we start with level 1.   At each level points are awarded for places gained – 8 pts.for 1st, 6 for 2nd,
5 for 3rd, 4 for 4th, 3 for 5th, 2 for 6th, and 1 for 7th, exactly the same scoring system which is used for the Inter-Regional Obedience competition..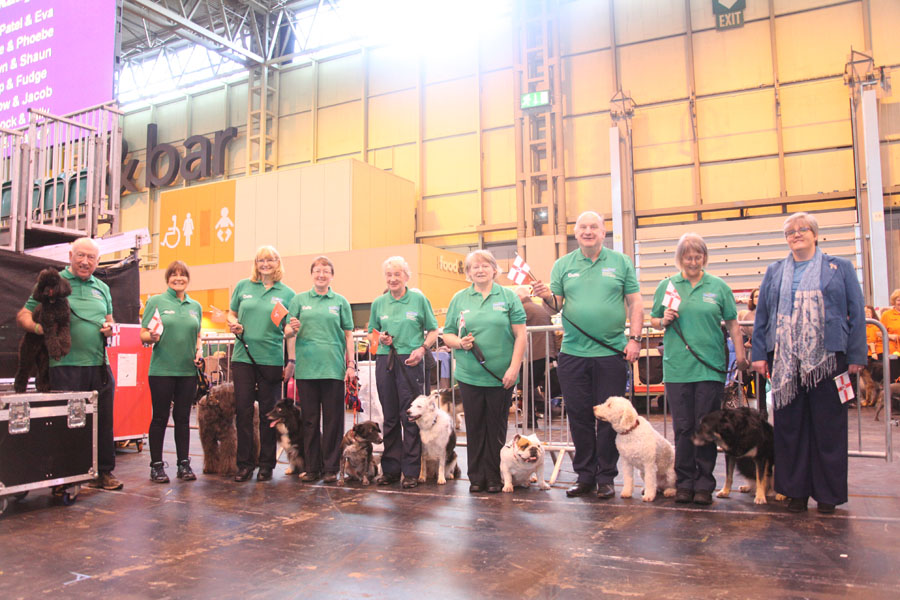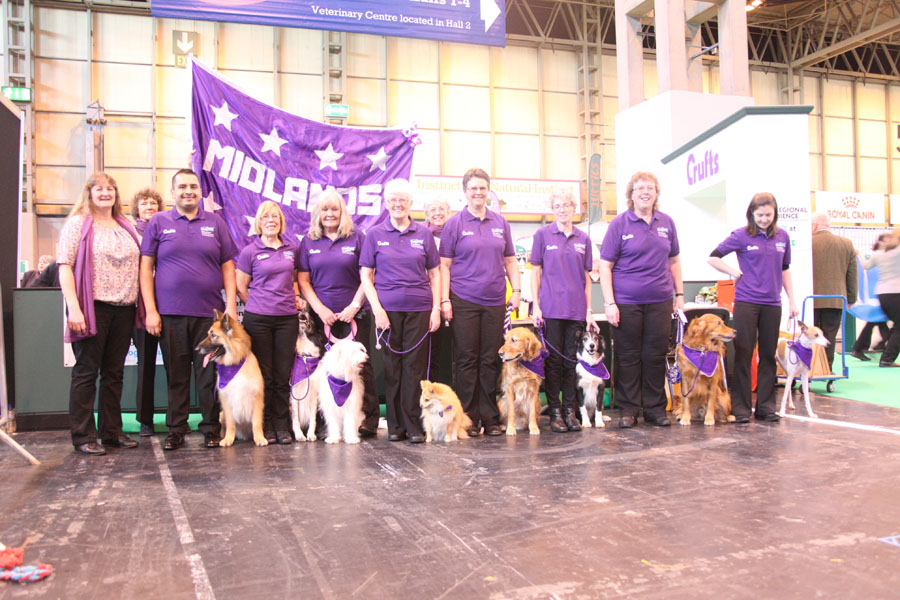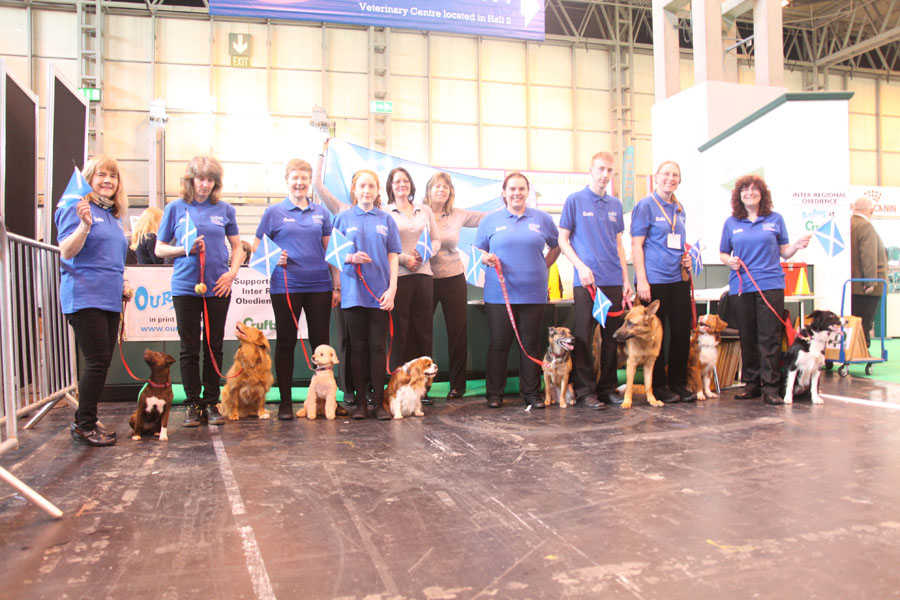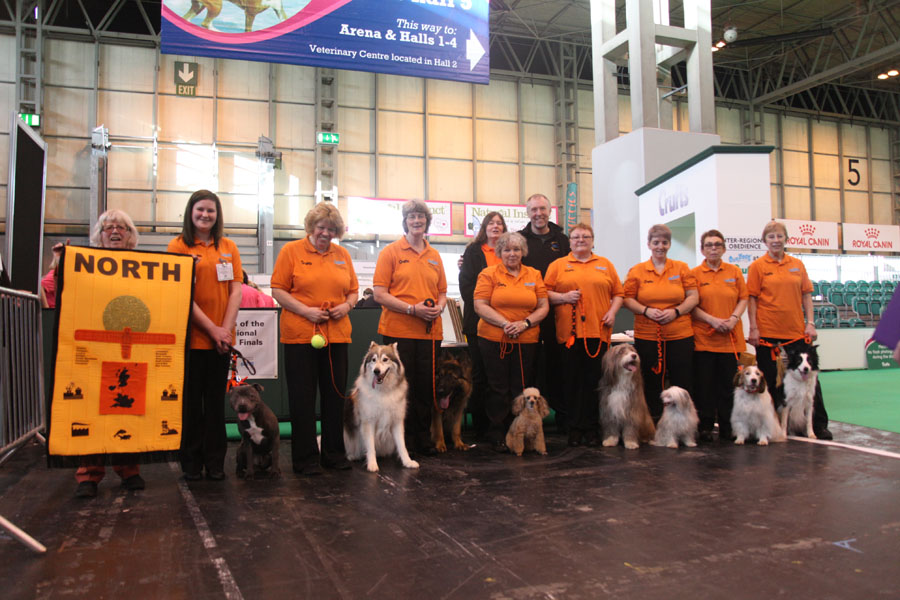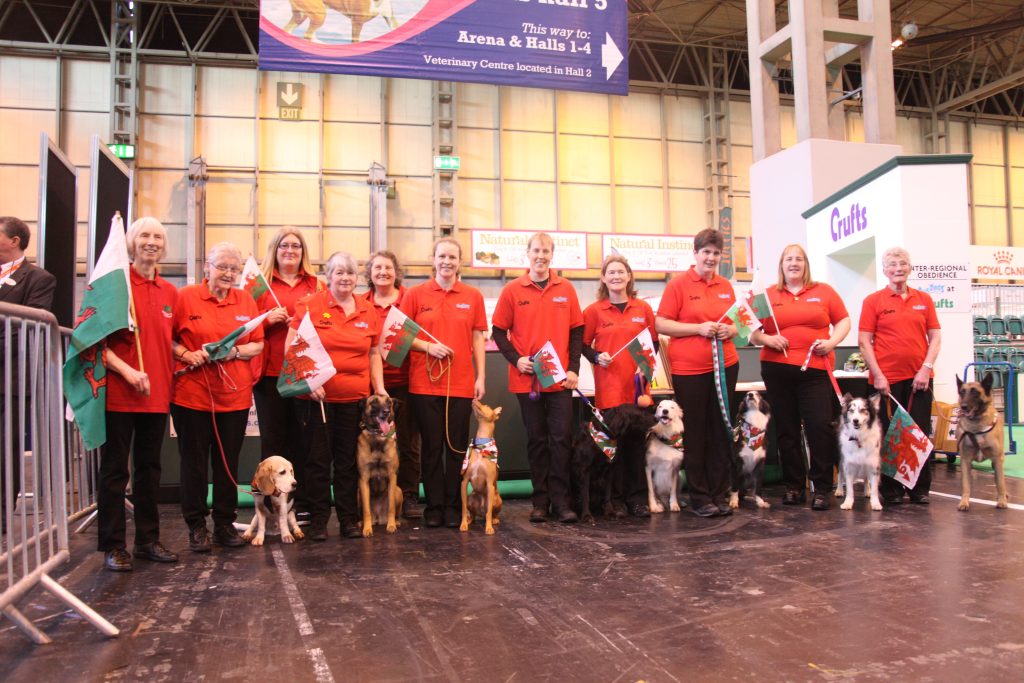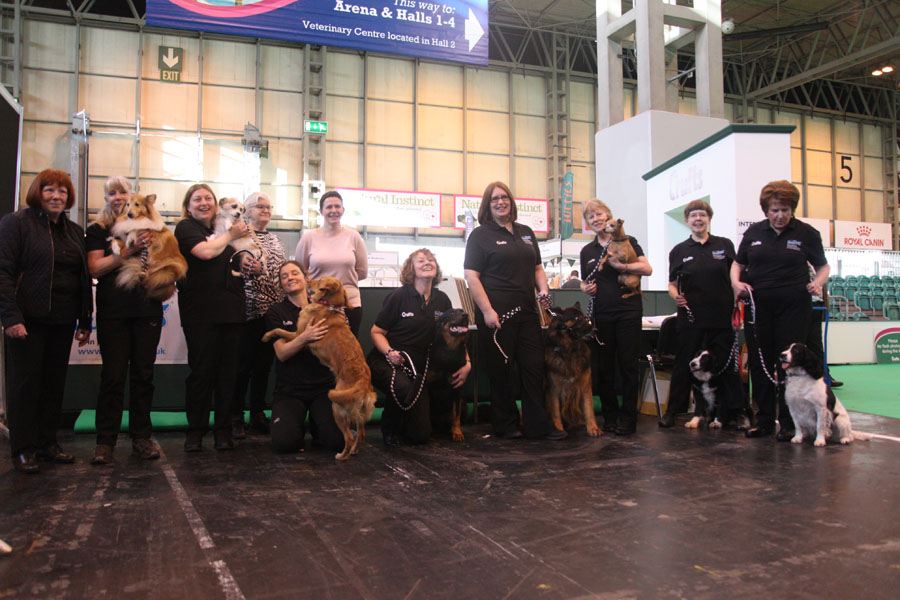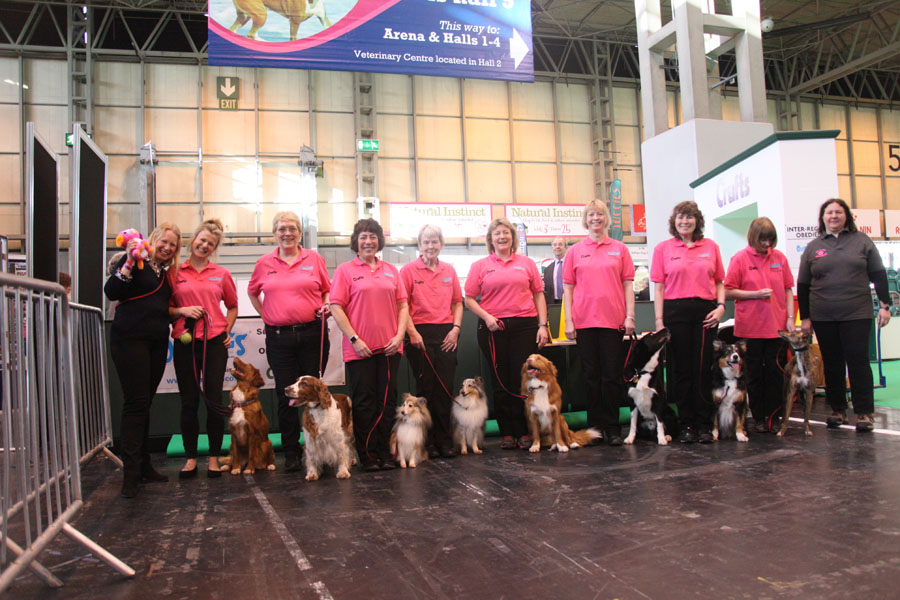 The first team to work was Northern Ireland, followed by The Midlands, Scotland, North, Wales, South/South West and finally the South East/East Anglia.
The first three places in level 1 were taken by Linda Thomas and Sabah for Wales followed by the North and then South/South West in third place.
Level 2 was won by Vicky Brown and Shaun for the Midlands, with Wales coming second and the South/South West in third.
After a coffee break Chrissy Harrison and Jemma took first place in level 3 for Wales and they were followed by South East/East Anglia in second and South/South West in third.
With the lunch break approaching Wales were once again successful and this time it was Katy Girdler and Bubba taking maximum points in level 4 with Northern Ireland coming second followed closely by the South/West.
The afternoon commenced with level 5 which was won by Ruth Allingham and Amber representing South/South West who just headed the Midlands with Northern Ireland in 3rd place.
Finally we came to the top class, level 6, where Sue Cotton and Bradley gained maximum points for the Midlands by the narrowest of margins from Scotland with Northern Ireland in 3rd place once again.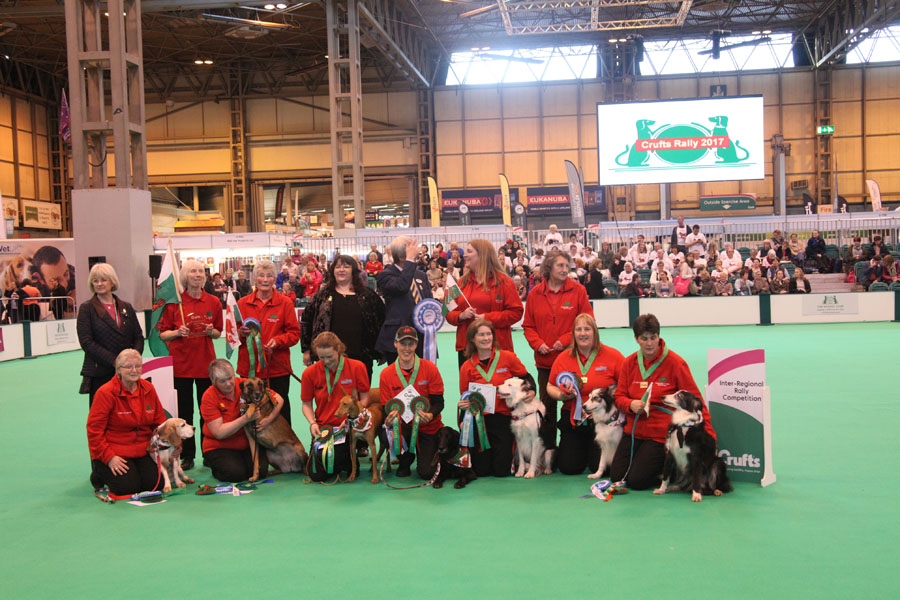 When all the individual scores were added together the winning team was Wales, followed by South/South West in 2nd place with the Midlands in 3rd
Congratulations to Wales for winning the inaugural Inter-Regional Rally Event at Crufts 2017.
Following the Rally on Thursday we had the The Kennel Club Obreedience Competition which was almost an hour late starting, due to the over-running of the Rally competition.
The judge for this event was Michelle Newman who had ten teams to judge of various breeds.
The competition started with each of the ten teams doing synchronised heelwork (all four team members together).
Afterwards each individual team member performed one exercise – Scent (on handlers own article), send to bed – a simple sendaway, stop on recall and play and finally retrieve the handler's article.

It proved to be a really good competition with plenty to enjoy and lots of entertainment along the way. A couple of "accidents" in the ring all added to the atmosphere which was obviously appreciated by the judge and her ring party as well. The eventual winners were "The GSDs" – the German Shepherd Dog team, followed by "The Russellers" – the Jack Russell Team (all suitably attired) and then in 3rd place were the "Dachtastic" Miniature Longhaired Dachshund Team. 4th place was claimed by the "Cairntastic Terriers" team – obviously Cairn Terriers.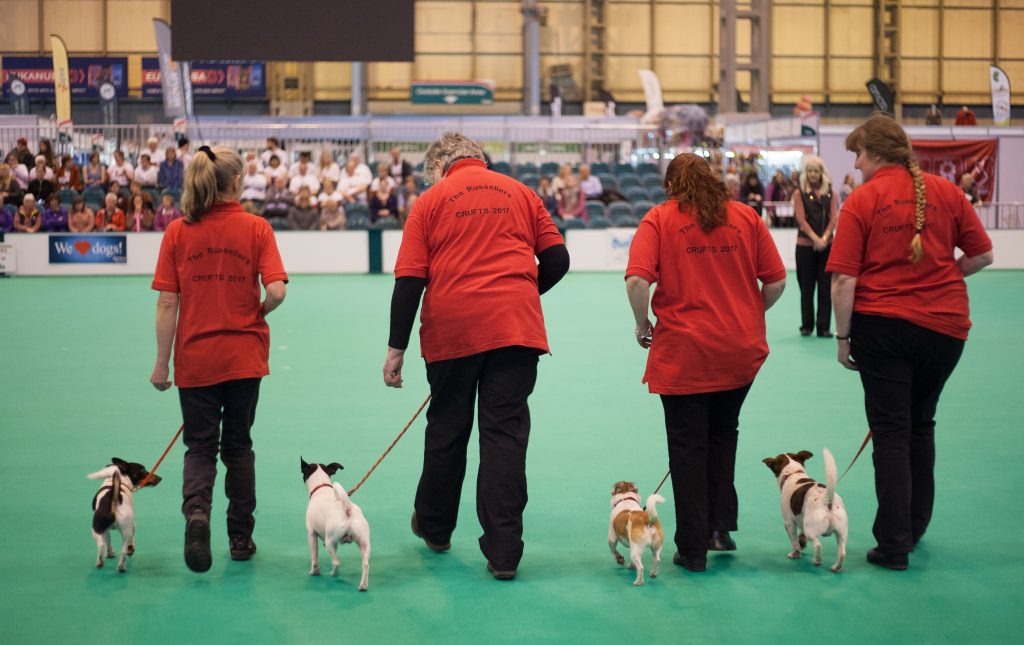 It would be nice to think that many of the dogs on display in this competition will continue their "obedience" careers in the future.
Friday – Inter-Regional Obedience Competition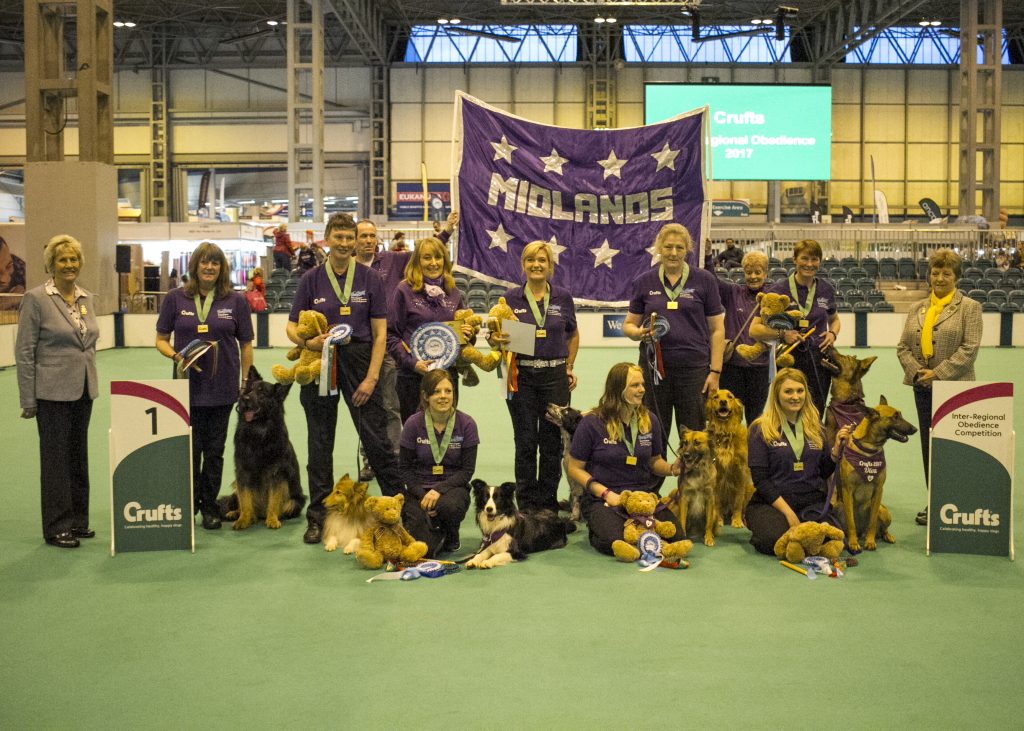 This competition, in various formats, has been with us since 1982. Today it followed the recent format of 1 Beginner, 2 Novices, 2 Class A, 1 Class B and 1 Class C with 7 Teams each having a reserve Beginner dog. This year we returned to using all the "standard" class exercises. The judge for this competition was Lee Lampert who has been involved in our sport since 1975, starting her judging career back in 1984.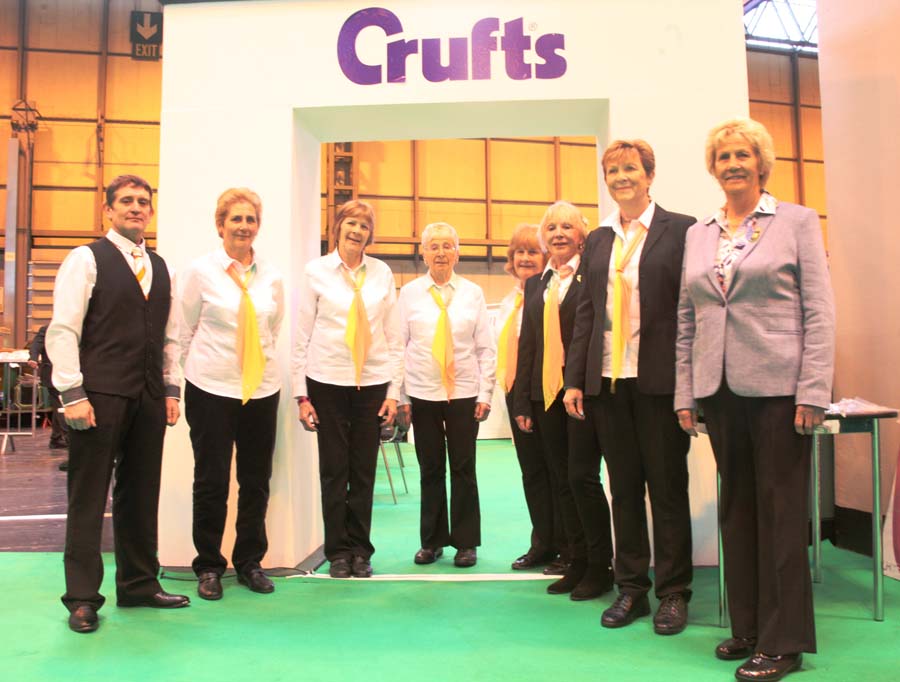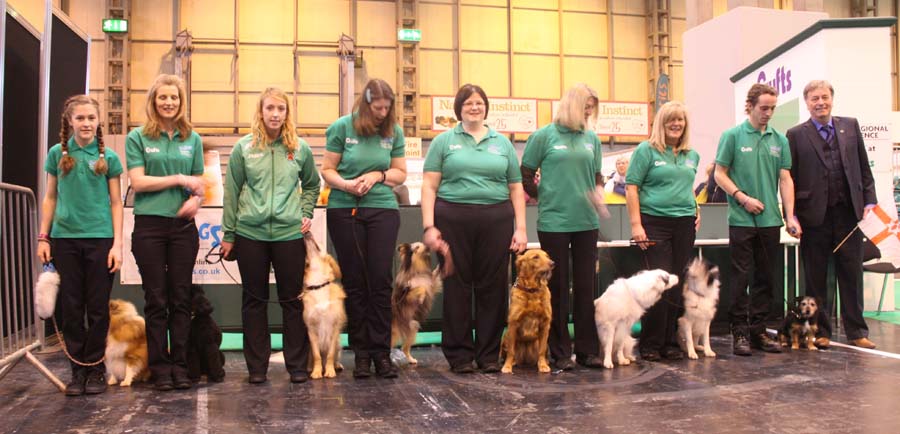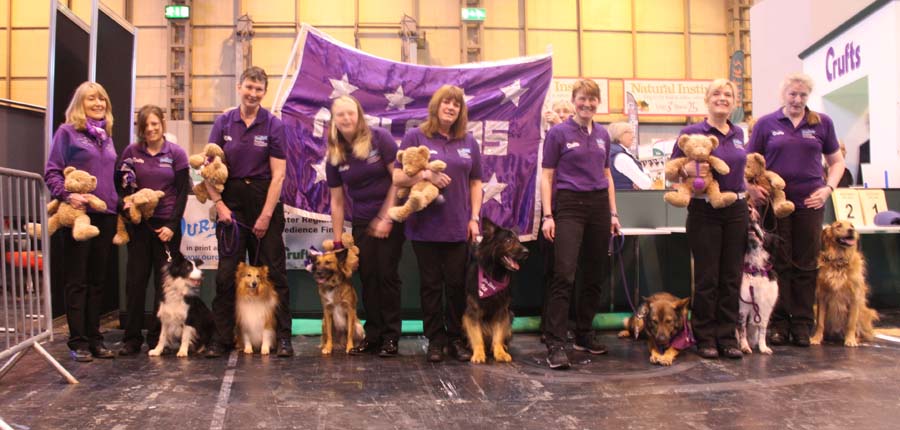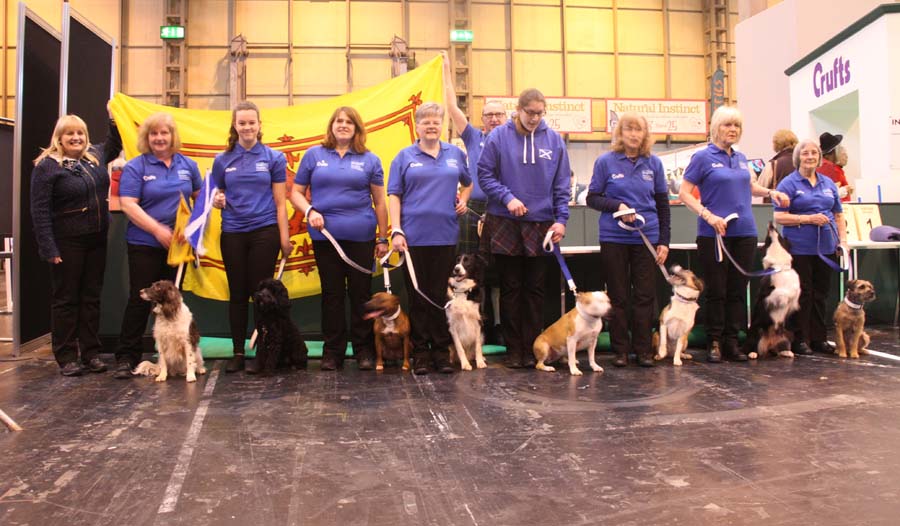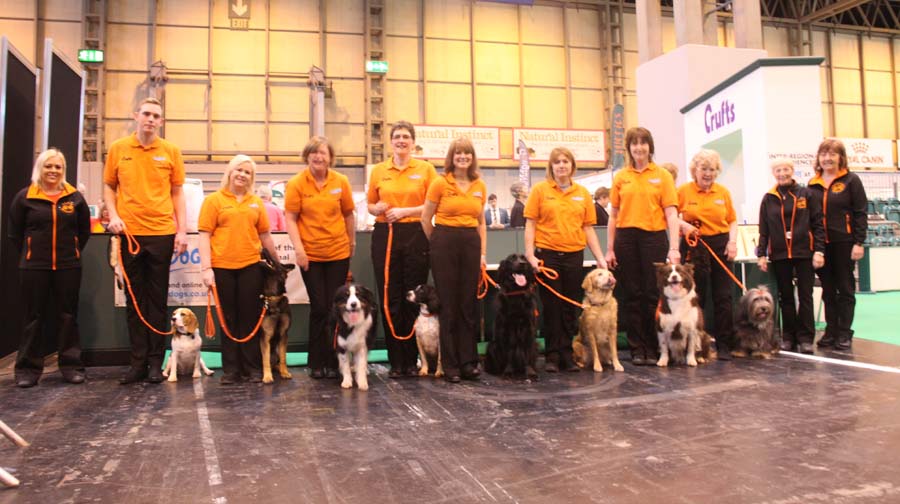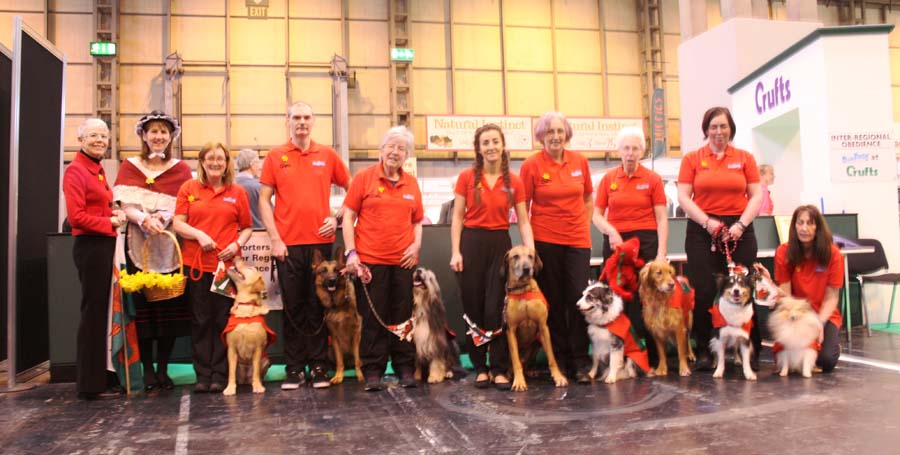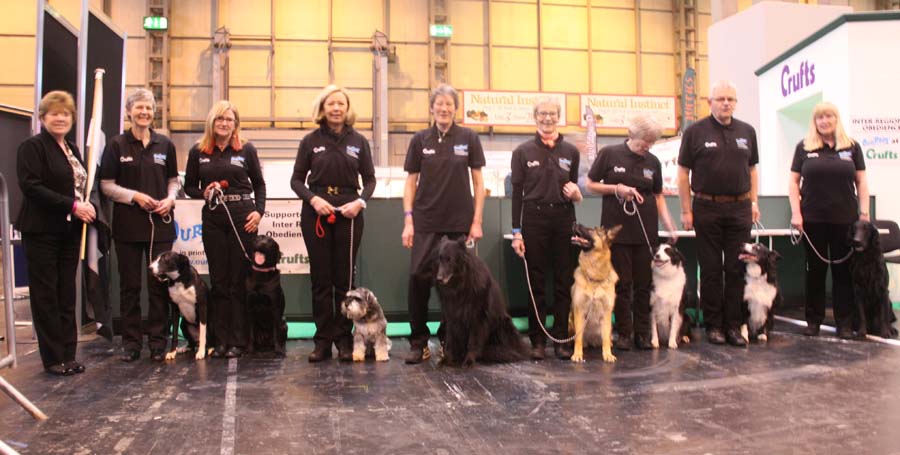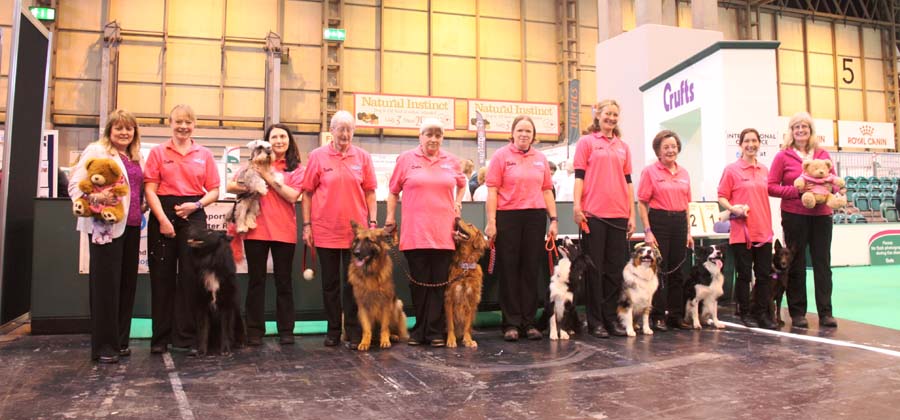 Starting with Beginners the winner was Wendy Evans with Lilly (Labrador), representing Wales, while in 2nd place was Emily Crookes with Lexie from the Midlands.
There were joint winners of Novice, Sue Lang with Kete from the Midlands and Eleanor Anderson with Brandy from Wales, while in joint 2nd place were Ruth Martin with Harley, from Northern Ireland, and Christine Richardson with Harvey, from South/South West.
In Class A the winner was Lynn Griffin with Ace, representing the Midlands, then we had four teams sharing 2nd place, one of these being the other Midlands dog – Alison Bowkett with Sam. This gave the Midlands a maximum 14 points in total for this class.
The winner in Class B was Tracey Eaton with Bronte from the North while Judith Owen and Tiggi were in second representing Scotland.
Finally we came to Class C, the last class of the competition where the leaders after the ring work were Connie Handford with Subi, representing the South East & East Anglia, who were leading this class easily, so it was all down to stays and scent.
However, nobody moved in stays so the final exercise of the day was scent where everything went well and Connie with Subi were still in the lead when they came in to do scent, and even though they made a slight mistake they still won the class comfortably and gave the South East & East Anglia a good win in the C. Taking 2nd place was Michelle Dunscombe with Rogue for Wales.
When all the individual scores were totalled up the clear winners were the team from The Midlands giving the final places as follows:
1st – Midlands
2nd – Wales
3rd – South East & East Anglia
So that brought us to the end of a brilliant and exciting day and what a brilliant job the judge, Lee Lampert and her excellent team of stewards did.
Very well done everyone.
Saturday – Obedience Championships Dogs.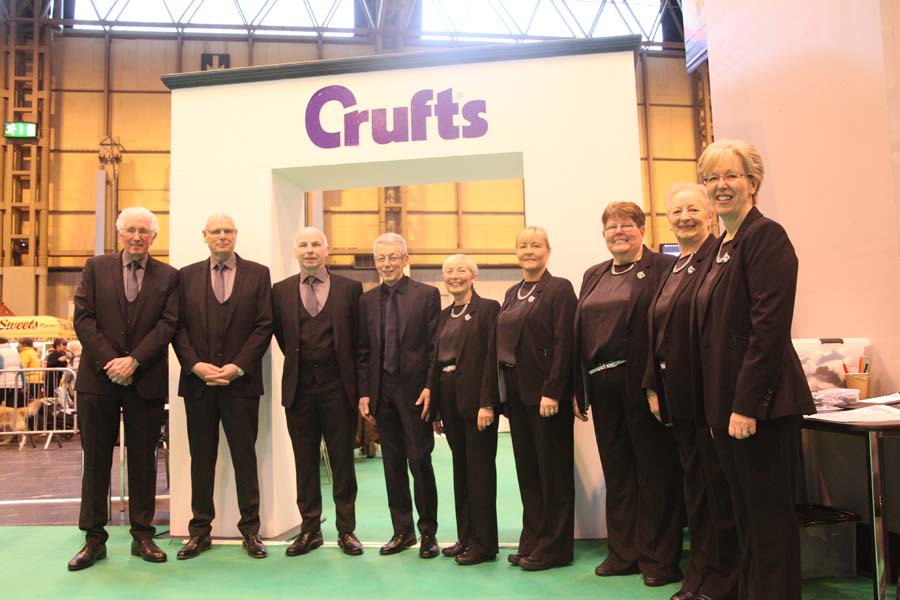 Saturday sees the start of the Dog championships judged by Alan Gresty and, for today only, Faye Cook is once again, (as Bron has qualified Tallis for the championships), taking over in the reporting of the days events.
It's the first day of the championships and it's nice to see the stands filling up so early in the day – is this the result of a move to the weekend I wonder?
The send away is diagonally across the ring to 3 rather splendid Crowns. The judge requesting the dogs are put into the down at the back marker. The retrieve article is a Border Collie soft toy, and each of these had a leather collar with a paw-print shaped disc on which was engraved each individual handler's name and the dog's pet name. This was a much appreciated gesture by the judge, Alan Gresty – something for every competitor to treasure.
Retrieve is the first exercise, followed by heelwork. The handler and dog go virtually straight into a series of left and right half circles at normal place. A larger circle is on the opposite side of the ring along with a triangle. The judge has requested they stay in contact with the lines when on these particular elements, at all times.
Positions on the move are down, sit and stand with them dispersed well amongst the heelwork. The test uses the floor markings at both slow and normal pace, this means the test is challenging but also interesting for the audience as it covers the whole ring.
Sendaway is next, finishing in the main circle, on which they use the edge for Distant Control. Leaving the dog in the stand the positions are ; Down, sit, stand, sit, down, stand.
Before starting I will mention that one team was withdrawn leaving 21 dogs to work.
The first few dogs came into the ring and executed the exercises well with no major issues, Mary Ray and Levi, at running order 4, were the first to finish the round in qualifying marks. Dot Watts and Zyco put in a lovely round but missed the second position, still finishing with a heelwork mark of 15 ¾.
At the break, after dog 9, it remained with Mary in the lead and Margaret Pinder and Raffles in second.
After the break we had to wait for a few dogs to work before Sue King came in with Nifty. They put together a beautiful round, with clear send away & DC and losing a total of 10. Next to put it all together was Ria McGovern & Vito, losing just 9¾ , it was all getting a bit close. However, it's very nice to see the top teams being able to work a round that showcases everything that these teams are able to achieve. No silly errors or mistakes and everyone completing the exercises well. Working 17 was Bronwyn Bartley & Tallis, "the bestest boy dog in the whole wide world" and they worked a really nice round, losing 16½, and I'm sure, as always, Bron will be delighted with his work.
Just before lunch Geraldine Steadman & Jaz also ran a lovely round, finishing on 11.
So going into lunch Ria & Vito led with Sue & Nifty close behind.
Judging resumed at 13.30 with just 3 dogs to work. These 3 did not make any difference to the lead, but both Jackie Duck & Janet Bates finished on respectable scores of 13¼ & 13¾.
So, as so often happens, it would all come down to scent and stays.
Stays were before scent today, so we have a bit of a wait for the final result, personally I like stays last so all the competitors can congratulate the winner in the ring. Stays were uneventful and so the marks remained the same going into scent.
The scent pattern was 3 lines of cloths, 4 in the top two lines and 2 in the front row, positioned at each end, on the row nearest the competitor. One decoy cloth is in the front left corner, and the other the far right corner. The judges cloth is the second cloth in from the left, on the second row.
Reliable as ever Mary & Levi were the first to complete scent and finish in qualifying marks on 13, now an anxious wait for the leading 2 dogs. Sue & Nifty came in to do scent and sadly failed so now we have to wait and see what happens for Ria & Vito. In the event they did a super scent and lost ¼ , this cemented their place and made them Crufts Obedience Dog Champions for 2017. Congratulations on a well deserved win..
That left us to sort out the other places with the remaining dogs having varying degrees of success with scent.
Before going on to the results I must mention the dogs who have retired at Crufts and these are Julie Rowland's Ricky and Janet Bates' Dallas.
So the final results are in and they are as follows: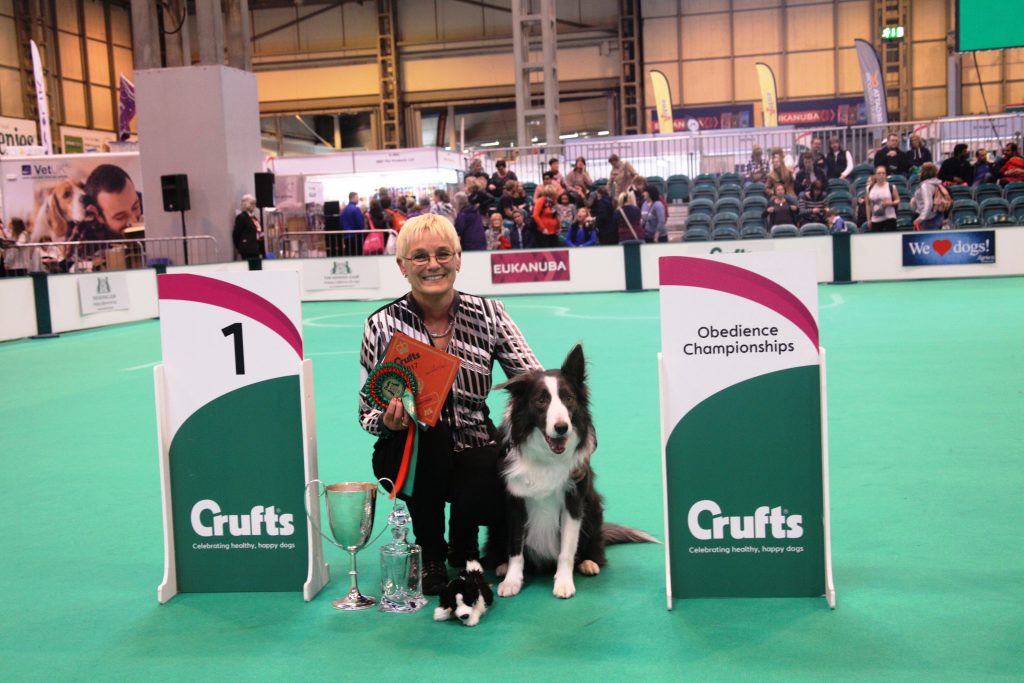 1st losing 10 Ria McGovern & Ob Ch Beckim Surprise Surprise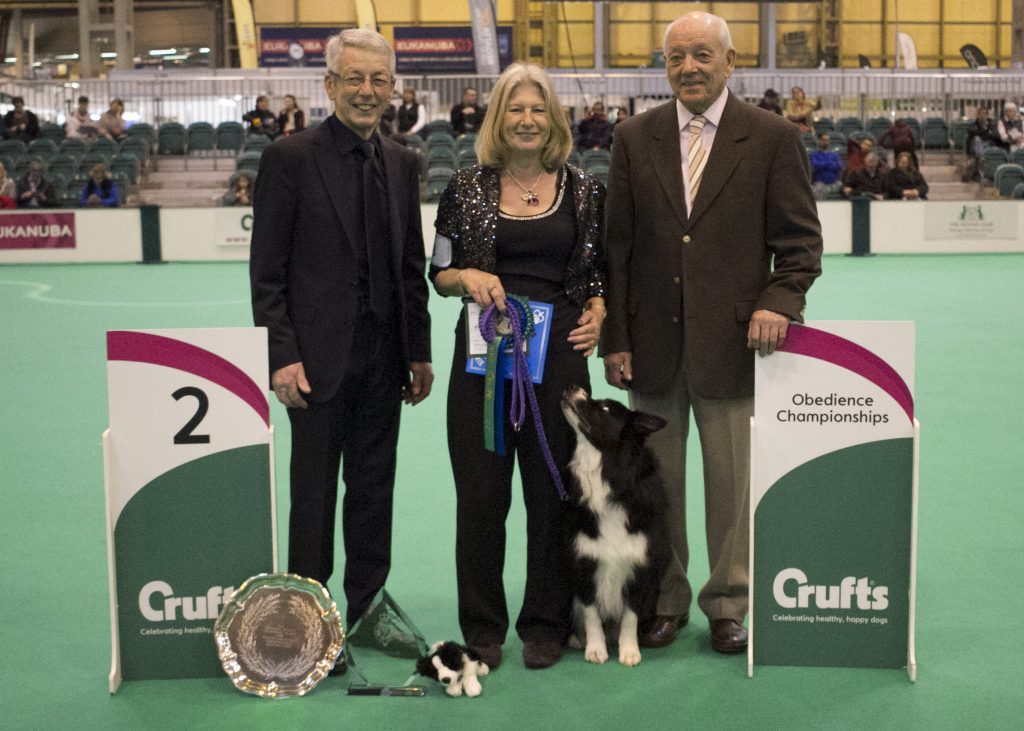 2nd losing 11¼ Geraldine Steadman & Ob Ch Nobite Defence of the Realm
3rd losing 13   Mary Ray & Ob Ch Colliewood Blue Jeans
4th losing   13½ Jackie Duck & Ob Ch Tyefold Xander
5th losing   14 Margaret Pinder & Ob Ch Fellameeka Diamond Geyser
6th losing 14¼ Janet Bates & Ob Ch Bluefizz Taika Chance on Me
Well done everyone and we'll be back for the Bitch Championships in the morning.
Sunday – Obedience Championships – Bitches
Today was the turn of the bitches, with the test being exactly the same as for the dogs, and we didn't have long to wait for the first to be in ticket marks, this was Caroline Eley with Tangle, the first Flat-Coated Retriever to qualify for Crufts I believe, and they came out after doing a lovely round losing 14 points.
Pat Watson and J, from running order 11, had a heart-stopping start to their round when J decided she didn't like the retrieve so Pat had fetch it instead which caused quite a laugh amongst the audience but Pat seemed to take it really well.
Then from running order 12, Jane Bint and Danni went into 2nd place when they came out losing 15¼ . Drawn 16, Philomena Barnes with Jezzie also lost
15¼, whilst last years Crufts winner, Suzy Tooley and Flame lost a total of
15½ and Kathy Russell with Kafna lost 16½.
Finally, the last team to work before lunch, Madge Thompson and Trendy, drawn 20, lost 14½ which put them into 2nd place.
Pat Watson and Flicker were the second team to work after lunch and they came out losing 15 which put them into 3rd place but immediately afterwards Karen Davies and Lolly went into a comfortable lead when they lost just 11¾.
Finally the last team to work, Mary Ray with Lyric, took second place when they lost just 12¼ which meant that the last two to work went into the first two places and Lolly's comfortable lead was narrowed to just ½ a point.
Only twenty bitches worked because four had, for one reason or another, withdrawn prior to competition, so stays came next, to be followed by scent.
Stays were completed without any mishaps so the ring was set up for scent, the same pattern as for the dogs, but we had a short break before the last exercise was started.
The first team that were in contention, Caroline and Tangle, unfortunately failed so then we had to wait until running order 12 before the next one in contention which was Jane Bint with Danni and they lost 2¼ which put them down the line.
Philomena and Jezzie then went clear (the only clear scent I believe over the two days) which guaranteed them a place. Immediately afterwards came Suzy and Flame who failed and then Kathy with Kafna lost 1 giving them a chance of a place.
Madge with Trendy who were on 14½ lost ½ which meant that they couldn't be worse than 4th. Pat Watson with Flick lost ¼ which would keep them well in with a place.
Then came the leaders, Karen and Lolly. They lost ½ which put them level with Mary and Lyric who did a lovely scent but lost ¼
So the final result was a win for Karen and Lolly losing 12¼ , with Mary and Lyric in 2nd on 12½.
We then had a run-off for 4th and 5th and also for 6th and 7th .
Again I must give the names of the bitches who are retiring which are Oddi, (Kathy Russell), Jezzie, (Philomena Barnes), and Trendy (Madge Thompson).
Alan had a gift for each of the ones retiring on both days – once again a lovely touch which was really appreciated by everyone.
The final results then were as follows:-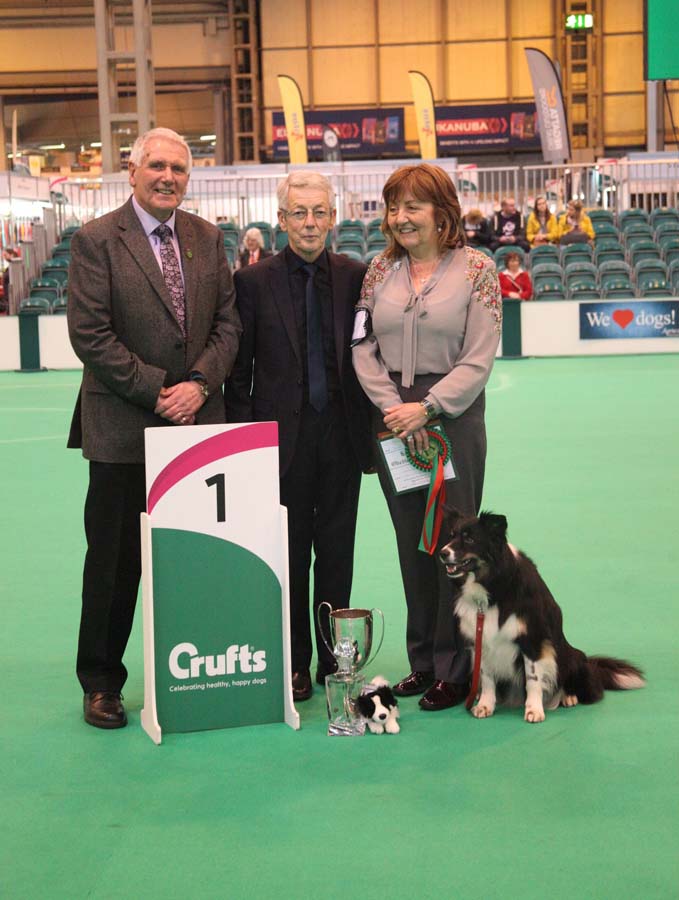 1st –   losing 12¼ Karen Davies & Ob.Ch.Stillmoor Celtic Banner OW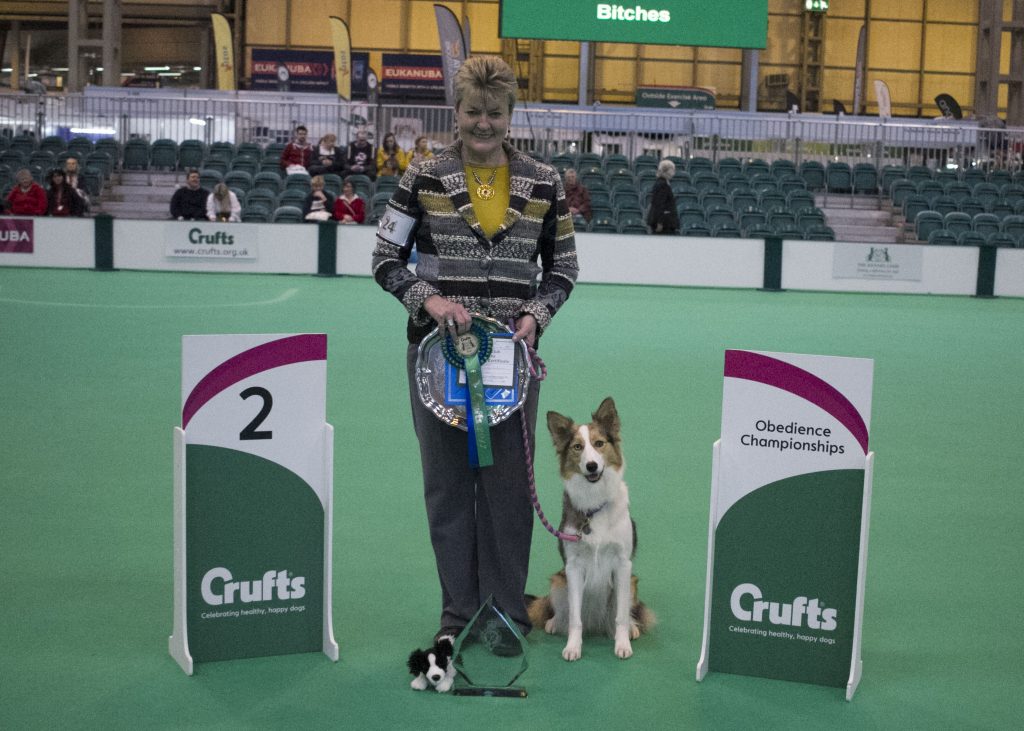 2nd – losing 12½ Mary Ray & Sarkam Sings The Blues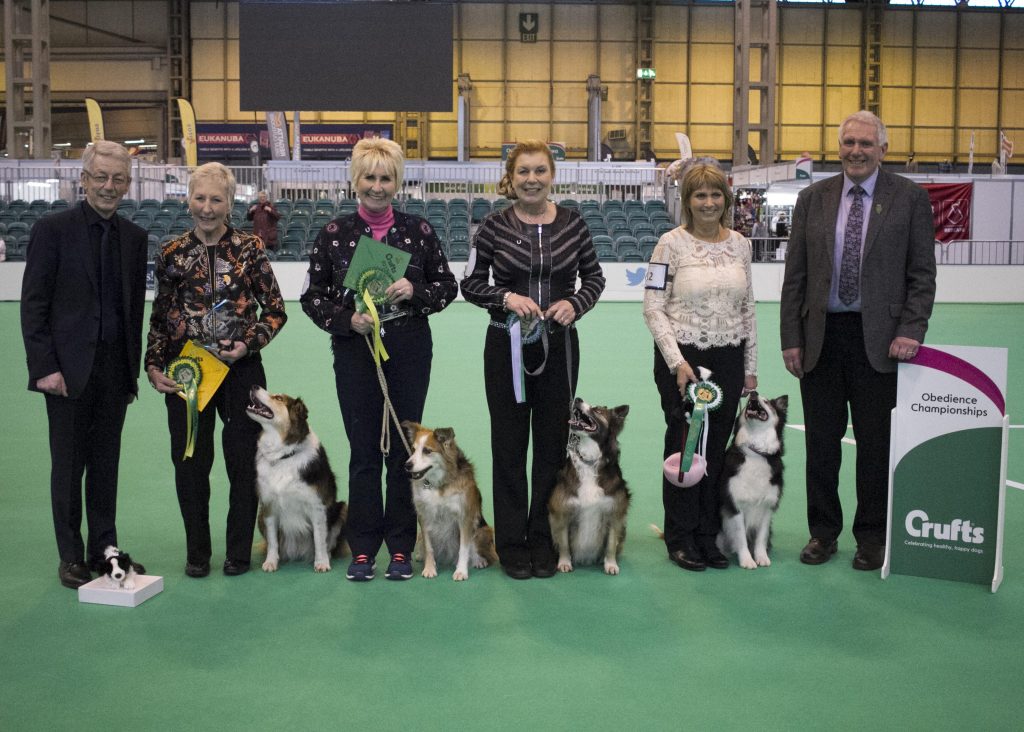 3rd – losing 15 Madge Thompson & Ob Ch Forevermagic It's Trendy
4th – losing 15¼ Pat Watson & Ob. Ch. Forever Magic It's Flicker
5th – losing 15¼ Philomena Barnes & Ob Ch Bheinn Bewitched
6th – losing 17½ Jane Bint & Ob Ch Janyjoy Jumpin Jaro
So another Crufts has come and gone and now we have the 2017 obedience season to look forward to. Hope to see you all on the circuit.